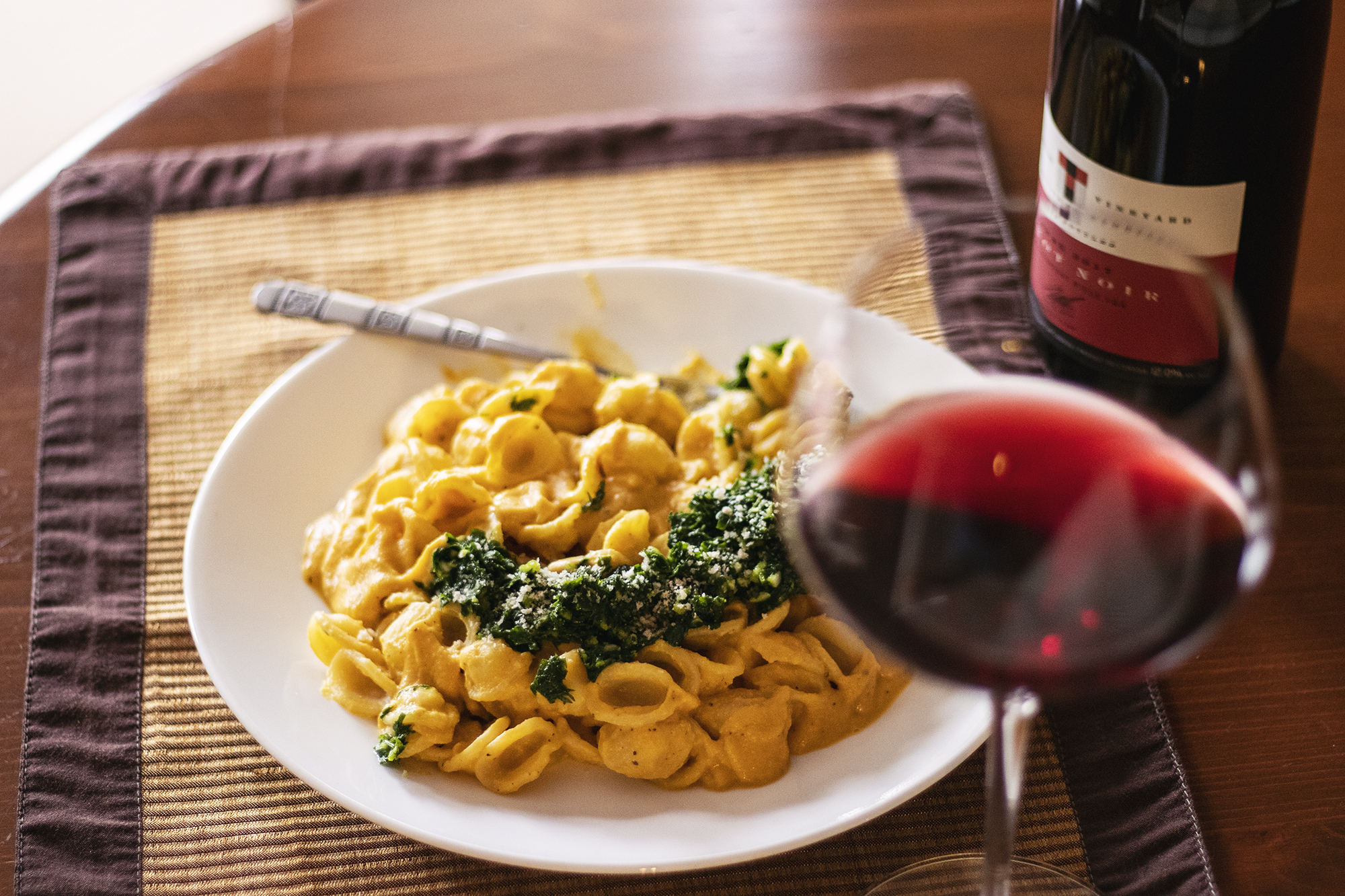 It's Vege-Wednesday! We're bringing back our Vegan Wine features with a little twist….now you can pair these wines with a delicious Vegan meal (tried and tested and plates completely cleaned by our team here, so you know they're good!)
We're thrilled to be continuing to partner with VegeCert in certifying our Vegan and Vegetarian wines, making it easier for Vegan customers to find and enjoy new and exciting wines in their area!
The wines we feature on Vege-Wednesdays are certified Vegan friendly by VegeCert, an organization that certifies vegan and vegetarian products. This means the wine in question was not made using any animal byproducts. But some of you have been wondering, what does that mean?⁠
⁠ 🌱Sometimes fining agents that are made from things like eggs, isinglass, and casein are used in the production of wine. This would result in a wine NOT being considered Vegan!⁠ Wines of ours that do not have any of these animal byproducts used during production proudly carry the VegeCert certification of being Vegan. ⁠
Now, let's get cooking!
---
Orecchiette with Creamy Carrot Miso Sauce & Carrot Top Gremolata
INGREDIENTS
8–10 ounces orecchiette pasta, cooked in salted water, according to package directions.
Carrot Miso Sauce:
2 shallots, rough chopped
4–6 garlic cloves, rough chopped
2 tablespoons olive oil
2 heaping cups carrots, thinly sliced
2 cups water
1/4 cup raw cashews
1/4 teaspoon salt
1/4 teaspoon pepper
3 tablespoons White Miso Paste
Carrot Top Gremolata 
1/2 cup carrot tops (tender leaves) packed
1/2 cup Italian parsley
1 fat garlic clove
1 tablespoon lemon zest
1/4 teaspoon salt
1/3 cup– 1/2 cup olive oil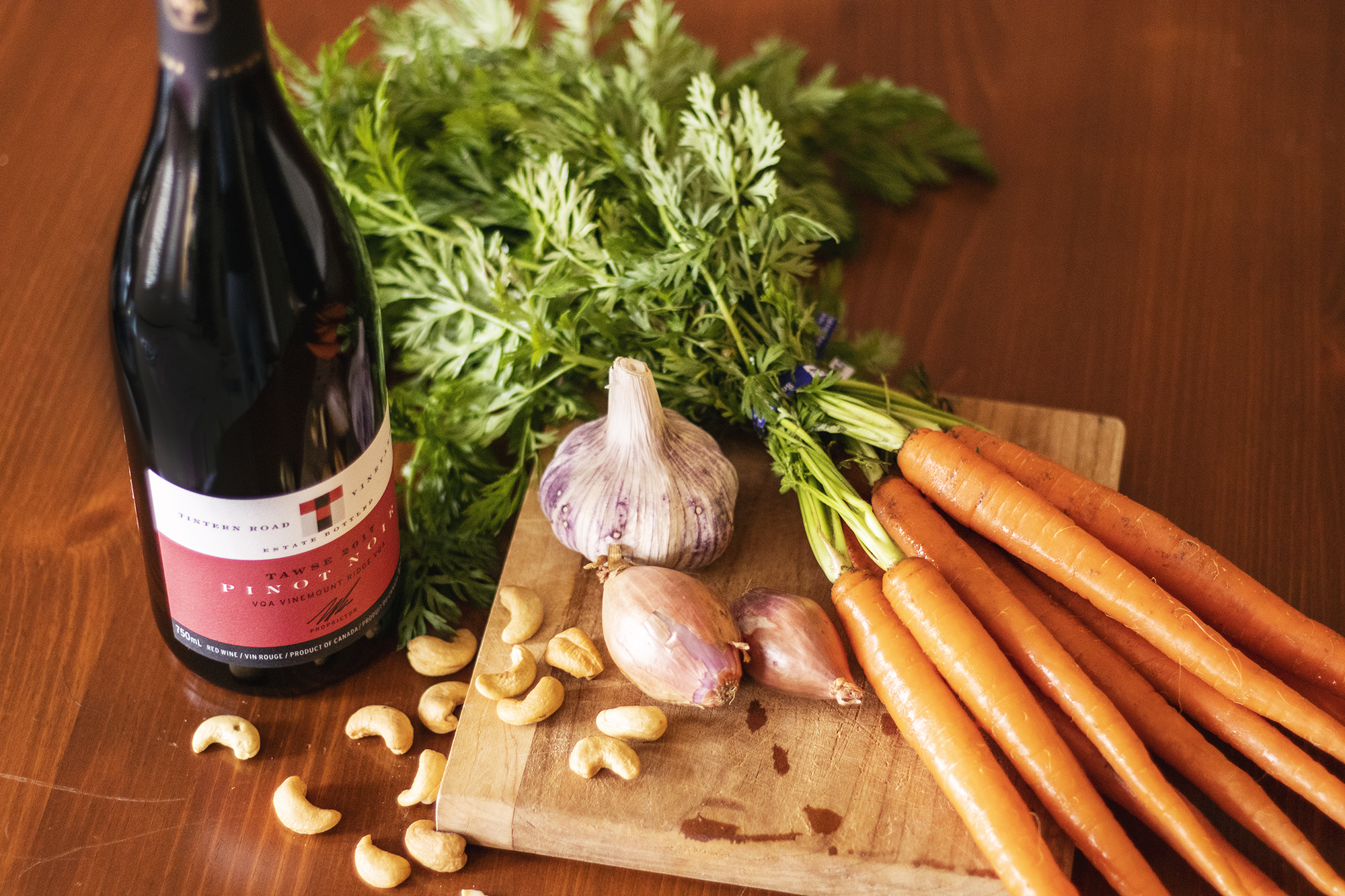 ---
INSTRUCTIONS: PASTA
COOK PASTA: Set 6-8 cups salted water to boil for pasta, and cook according to directions.
COOK the SAUCE: Heat oil in a medium pot, over medium heat. Saute shallot and garlic until fragrant and golden, about 5 minutes, stirring often. Add carrots, cashews, water, salt and pepper and bring to a boil. Cover, lower heat to low and simmer gently until carrots are fork-tender, about 15 minutes. Stir in the 3 tablespoons of miso and let cool for 5-10 minutes.
BLEND THE CARROT MISO SAUCE: Once the carrots are tender and slightly cooled, place all in a high-speed blender, covering tightly with a kitchen towel, blend on the lowest setting, gradually increasing speed, until fully blended, creamy and silky smooth about 1- 1 1/2 minutes.
Drain the pasta and pour the sauce over the pasta, gently warming if needed. Taste and adjust salt. 
Divide among bowls, and sprinkle with toasted bread crumbs and spoon the flavorful Carrot Top Gremolata over top.
INSTRUCTIONS: CARROT TOP GREMOLATA
Place carrot leaves, parsley, lemon zest and garlic in a food processer and pulse repeatedly until finely chopped. Add the salt and oil, pulsing a few more times until incorporated (but not too smooth). Add more oil if you prefer a looser version.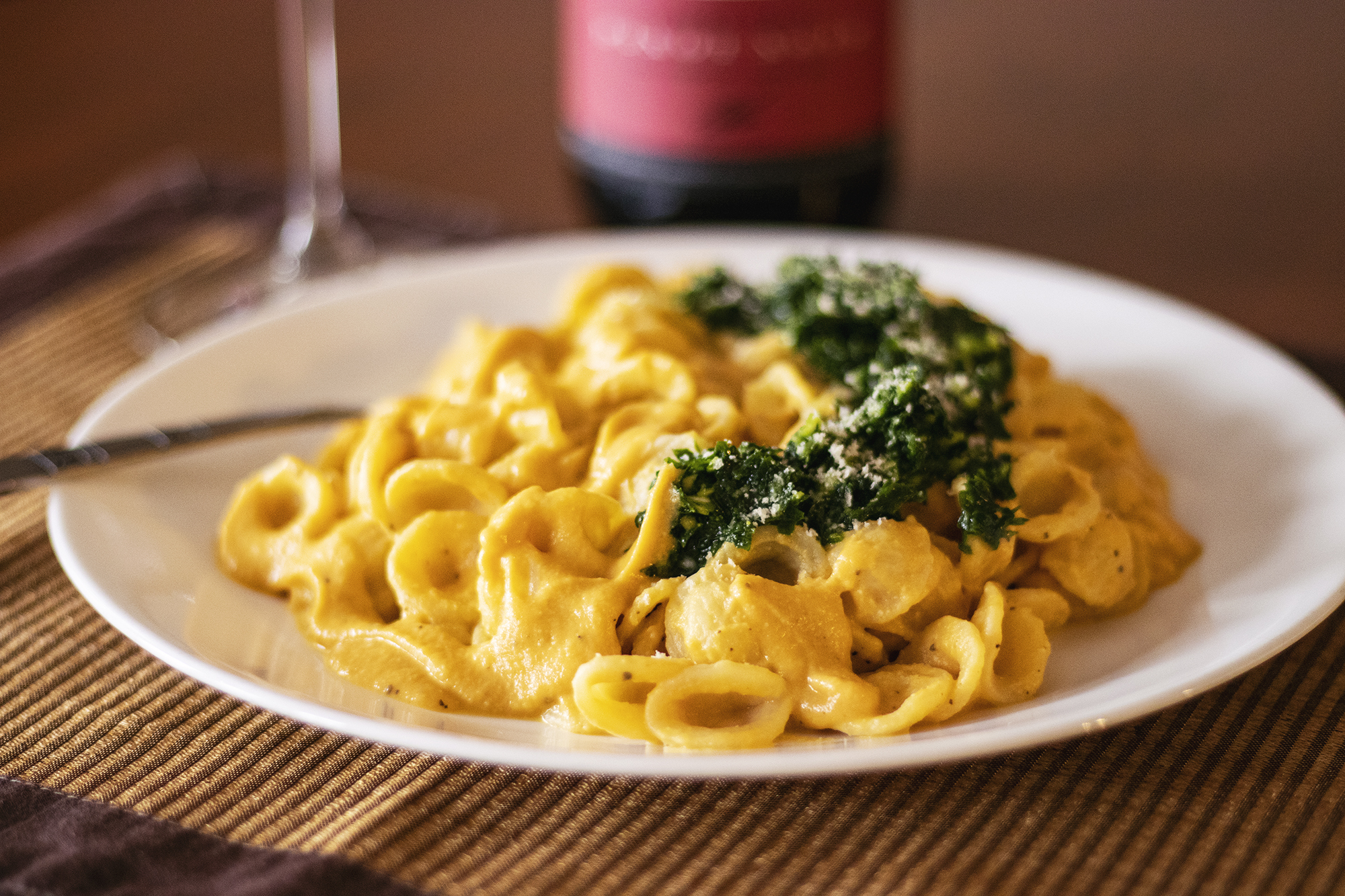 Pairing with Wine
Enjoy this dish with our 2017 Tintern Pinot Noir, certified Vegan by VegeCert! This Pinot is light and bright but harmonizes beautifully with the earthiness of the carrot sauce, and balances the savoury miso flavours nicely. This completely vegan meal is FULL of flavour and seems rich, but doesn't leave you feeling heavy and over-stuffed. The Gremolata is optional, but we love the fact that we didn't waste anything from our carrots and let's be honest, who could say no to more garlic in your pasta?