Thanks to Chef Dobbie at Redstone Restaurant for sharing the very popular Sweet Corn Soup recipe to pair with our Tawse WC Chardonnay!
This soup is now on the Redstone menu for a limited time as it is seasonal, but has been a favourite and staple at the Restaurant for many years!
Sweet Corn Soup
Ingredients:
Soup & Corn Stock
8 pieces sweet corn, kernels removed, cobs reserved
5 onions, diced
4 leeks, white only, diced
2 heads garlic, peeled and sliced
1 stalk celery, diced
1 potato, peeled and chopped
6 strands saffron
Butter, Unsalted
Olive Oil
Lime Juice to taste
Kosher Salt to taste
Black Pepper to taste
Espelette Pepper to taste
Basil Oil
2 Cups Fresh Basil Leaves, packed tight
1 Cup Canola Oil or Light Olive Oil
Finishing Garnishes:
1 cup – Roasted Red Peppers, Julianne
4 – 6 x Basil Leaves, Chiffonade
1 x Lime Juiced
6 – 8 pc Bocconcini Cheese, torn in half (2pc)
Olive Oil
Salt & Pepper
Basil Oil
Method:
For The Soup & Stock
Combine the corn cobs, one diced onion, the celery, half of the garlic, and one diced leek in a pot and cover with water.  Simmer for 30 minutes and remove from the heat.  Let stand for one hour and strain.
In a separate pot, sweat the remaining onions, garlic, leeks, and carrot in a generous tablespoon of butter until very soft.  Add the corn kernels, potato, saffron, and a generous pinch of salt and cover in the corn stock.  Simmer until the potatoes are tender, remove from the heat and puree.  Pass the soup through a very fine sieve and season with salt, black pepper, lime juice and espelette pepper.
For Basil Oil
Blanch the basil leaves in salted boiling water for about 10 seconds and then cool down in an ice bath immediately. Once the basil has cooled squeeze out as much water as possible and pat dry with a paper towel. Chop the basil roughly and place in a blender / vita mix with the oil and blend on high speed until dark green, about 10 – 20 seconds. Be careful not to blend to long or the oil will get hot and turn brown. Let the oil strain overnight through a coffee filter, and then its ready to use. You can store the left-over oil in the freezer until you want to use it again.
Presentation
In a stainless-steel bowl combine the bocconcini cheese, roasted red peppers, chopped basil, lime juice, olive oil, salt and pepper and gently mix. Place 2 pieces of the torn bocconcini cheese at the bottom of each bowl and top with the roasted red peppers. Gently pour the soup into the bowl around the garnish, and finish with basil oil.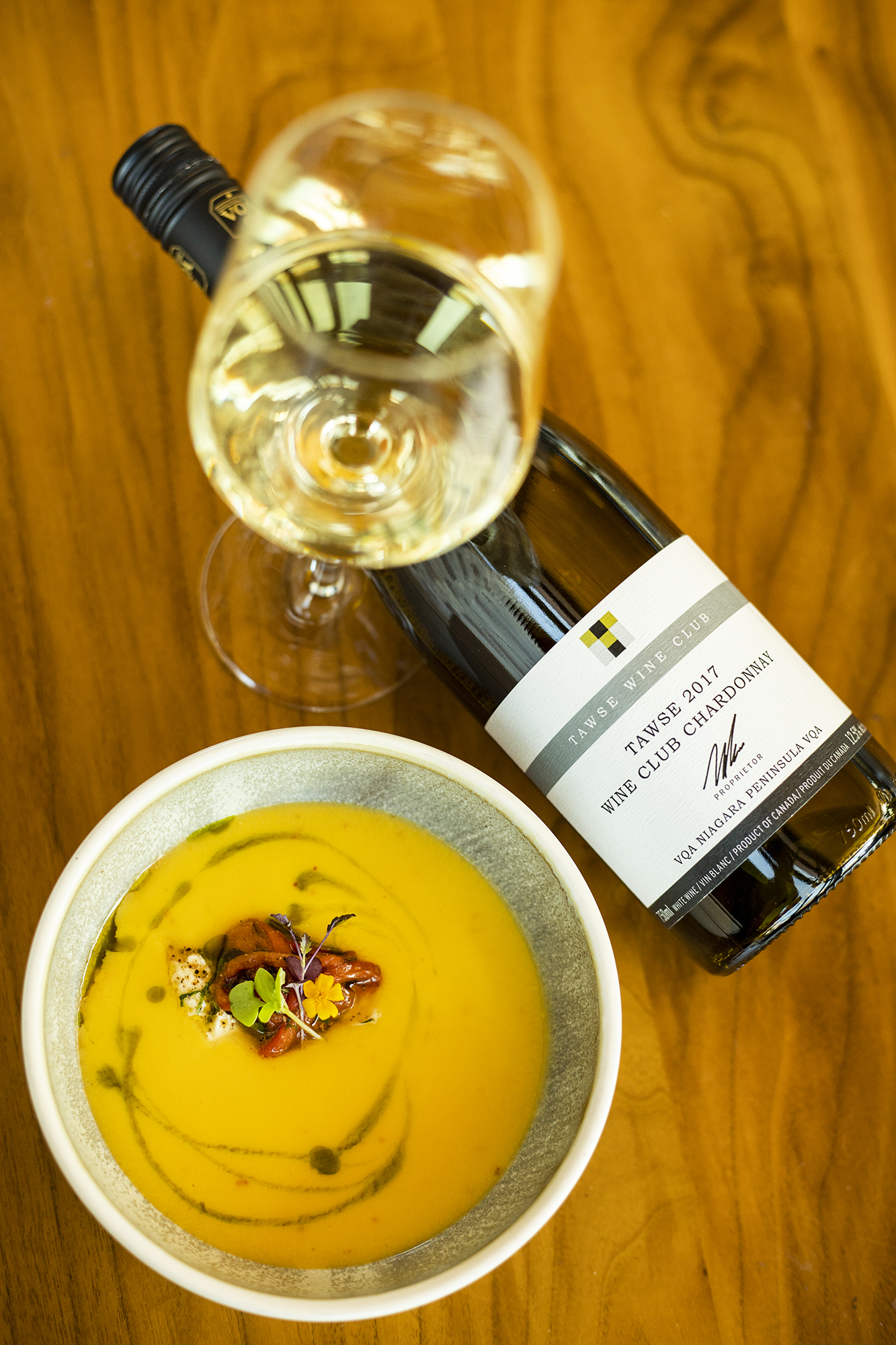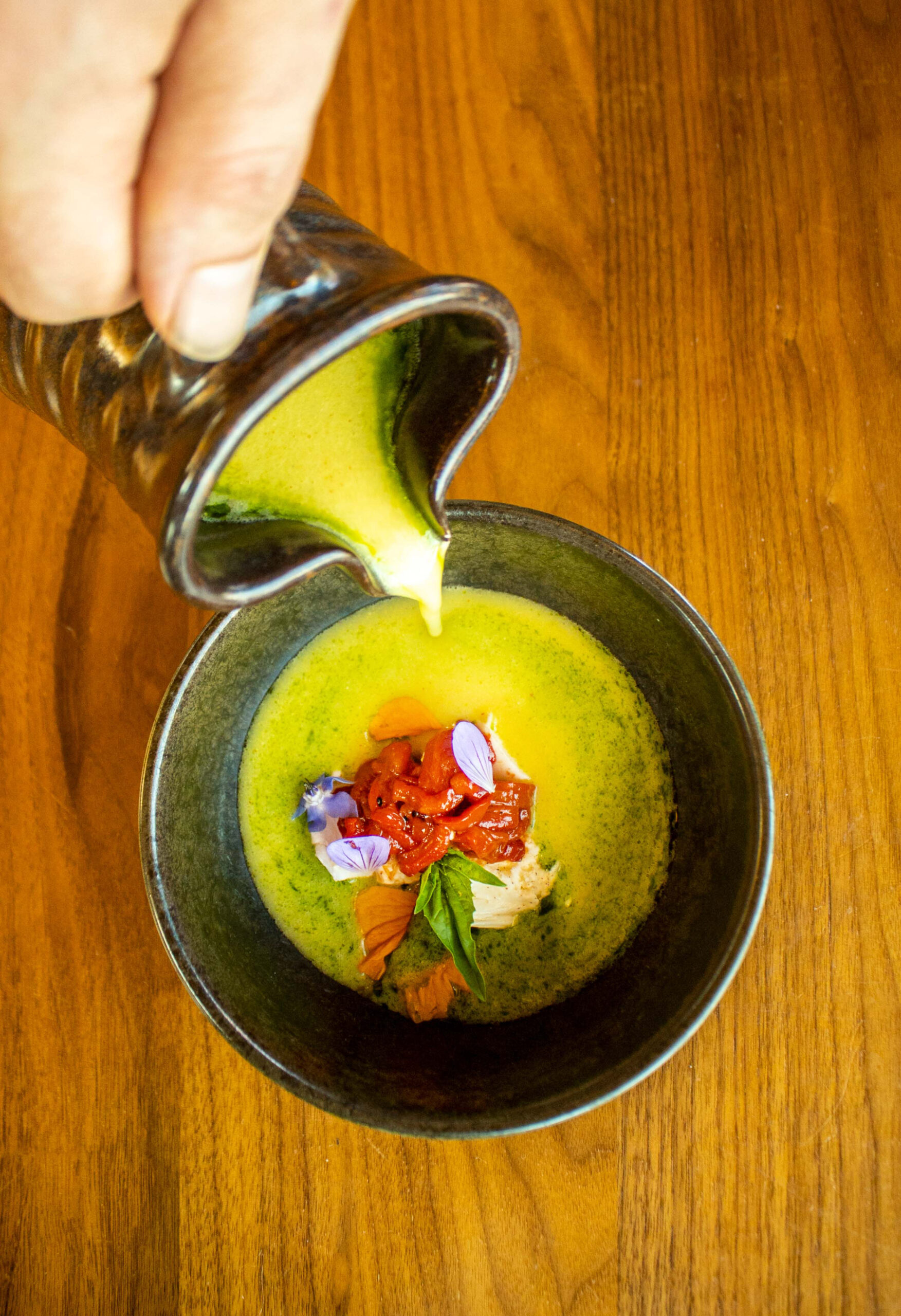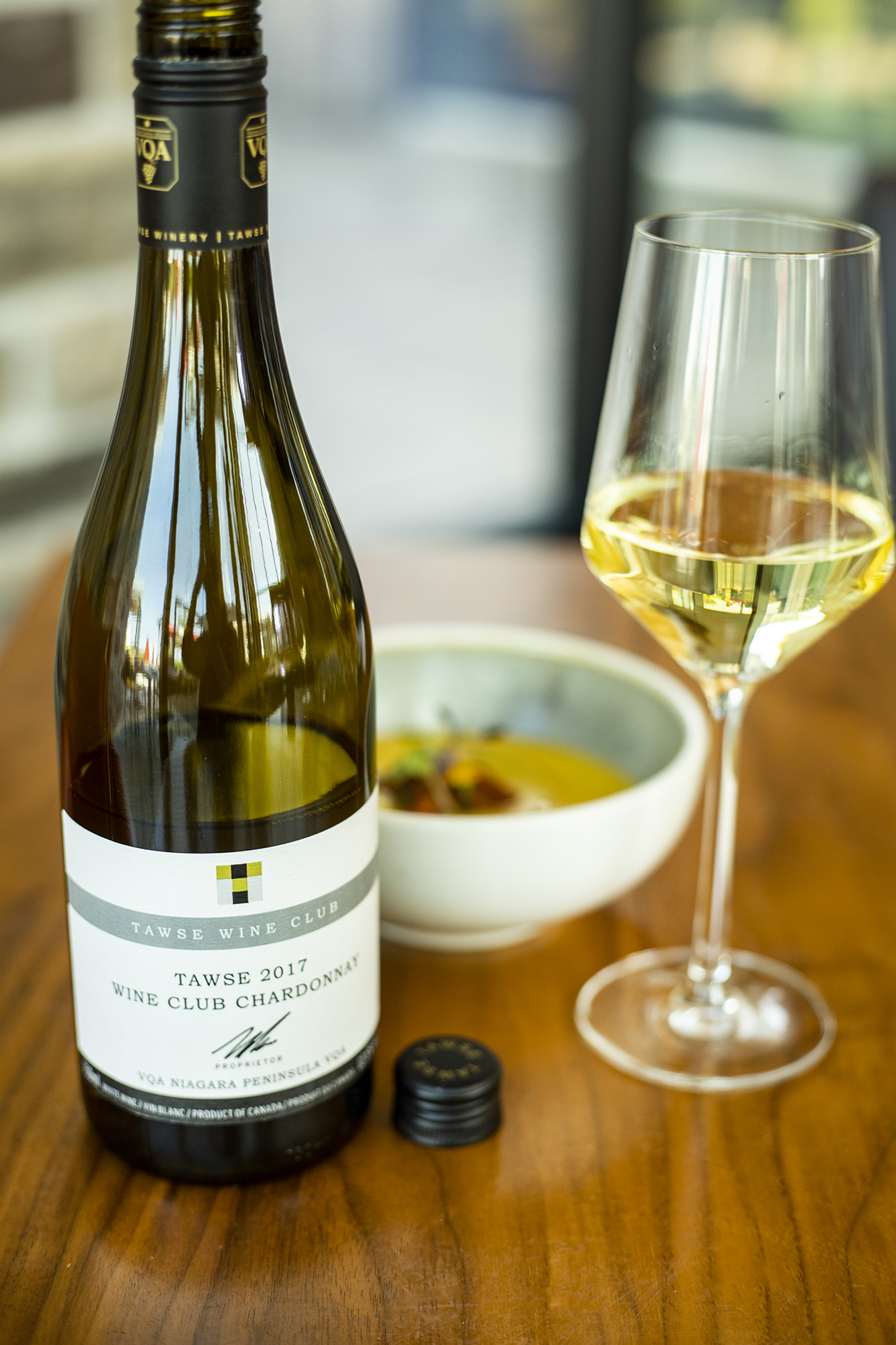 The Pairing:
The 2017 Wine Cub Chardonnay made from a blend of grapes from our Robyn's Block and Quarry Road Vineyards. This member exclusive wine was fermented and aged in new French barrels resulting in a Chardonnay with a pronounced oak presence. This wine shows aromas of toast, crisp pear, and cantaloupe. The palate displays ripe pear, minerality, vanilla and praline.
This Chardonnay sings when paired with the creamy, sweet soup, an excellent choice as the weather just starts to get chilly and comfort food comes back to our kitchens.
This wine is exclusively available to our Wine Club Members only! Get more information on joining here!