Summer Veg on Toast
Ingredients
2 tbsp Basil Pesto
1 tbsp  fresh Peas, Blanched
2 pc Asparagus, Cut in ½
4 pc Wild Asparagus
1 cup Baby Arugula
2 pc Morel Mushrooms, Halved 
2 pc Cherry Tomatoes, Cut in ½ 
1 tsp Preserved Lemon, Julianne
3 pc Kale Chips
½ Cup  Vegetable Stock
10 pc Pea Shoots
1 slice Watermelon Radish, Julianne
2 tbsp   Olive Oil
TT  Salt & Pepper
1 pc  Sourdough Bread, Grilled
Method
Brush The Sourdough Bread with Olive oil and Grill on Both Sides. After the bread is grilled put a 1 tbsp of pesto onto the top of the bread.
Heat a sauté pan over medium heat. Start with Olive Oil, Mushrooms, and Asparagus, Sauté for a couple of minutes or until soft, next add the peas, tomatoes, baby arugula, and vegetable stock and just heat through. Season with Salt and pepper.
Arrange the cooked vegetables on top of the grilled bread with pesto. Top with Preserved lemon, Pea shoots, Radish & Kale Chips.
Drizzle the remaining basil pesto around the plate with a few peas for garnish.
The Pairing
This is a seemingly simple but extremely flavourful dish whose rich vegetal and herbacious notes will harmonize perfectly with the brightness and acidity of the 2020 Grower's Blend Sauvignon Blanc!
Receive 20% off your online order of the
2020 Grower's Blend Sauvignon Blanc
by using the code NEW2022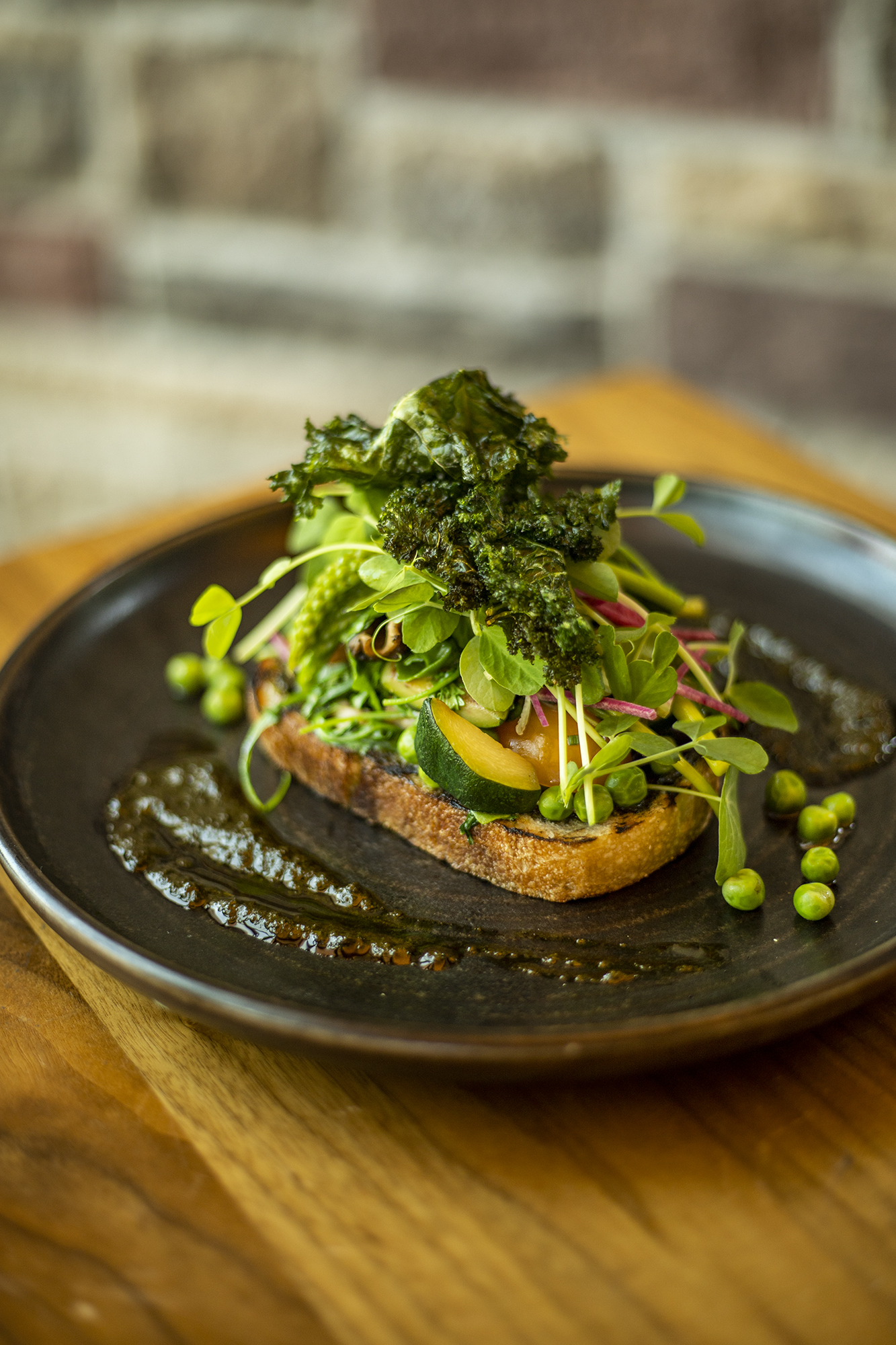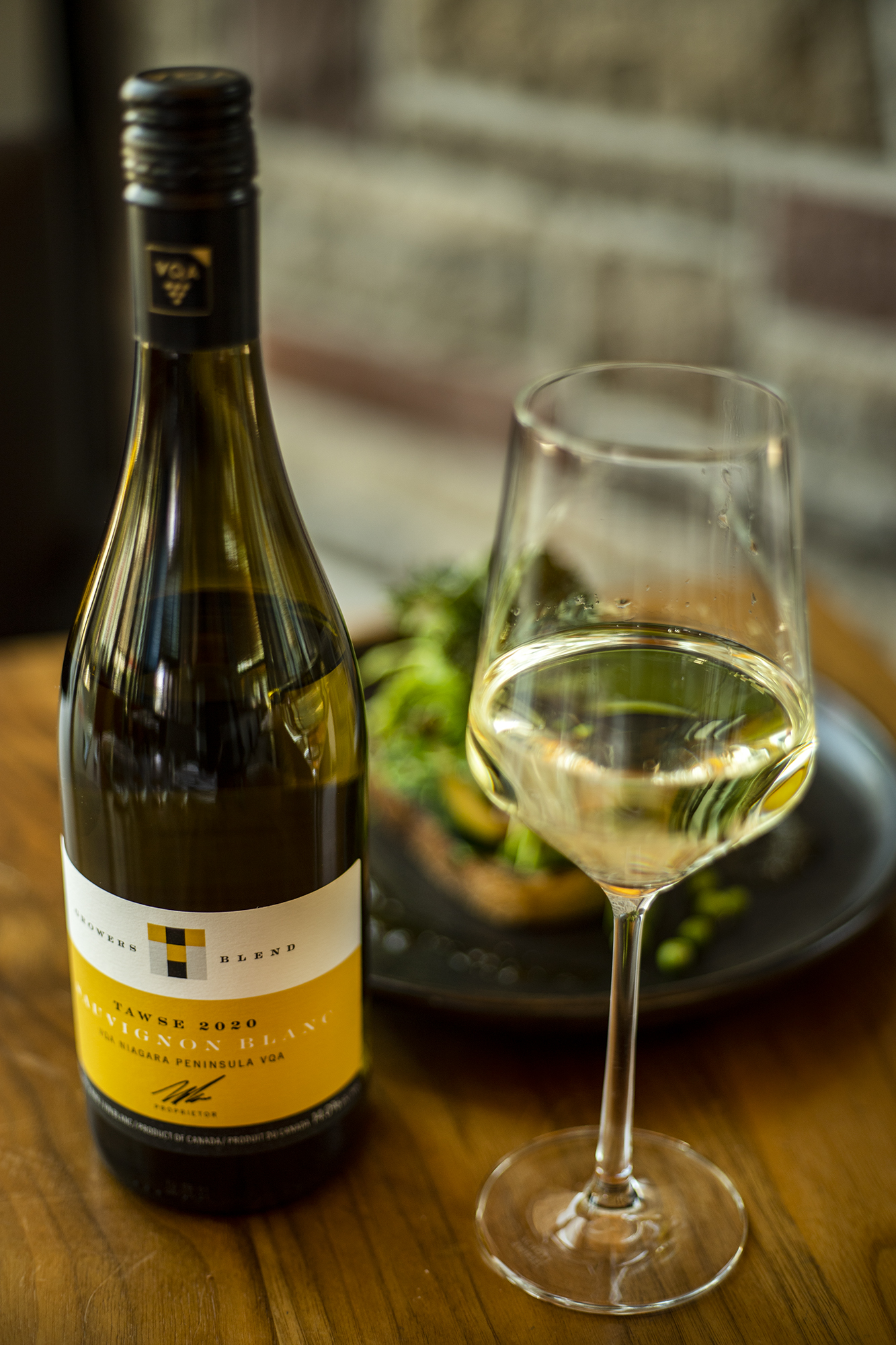 Basil Pesto
Ingredients
3 bunch basil, picked
3 cloves garlic, crushed
100mL pine nuts, toasted
1 lemon, zest only
250mL pecorino, rasped
100mL Canola Oil
1 Ice cube
Salt and black pepper to taste
Combine all ingredients in a food processor,
season with salt and black pepper
Kale Chips
Ingredients 
Canola Oil for deep frying
1 bunch of Kale
Kosher Salt
In a large heavy pot heat 2 to 3 inches of oil to 350 degrees F.
Thoroughly wash the kale and remove the stems. Tear the leaves up into large bite-size pieces and dry them, either in a salad spinner or on paper towels.
Drop 5 to7 leaves in the hot oil at a time and fry until the kale is crisp and almost transparent, about 60 to 90 seconds. Let drain on a wire rack set over paper towels and season with kosher salt while hot.