This sweet, spicy, tart recipe is the perfect pairing for an equally intriguing Cabernet Sauvignon Icewine…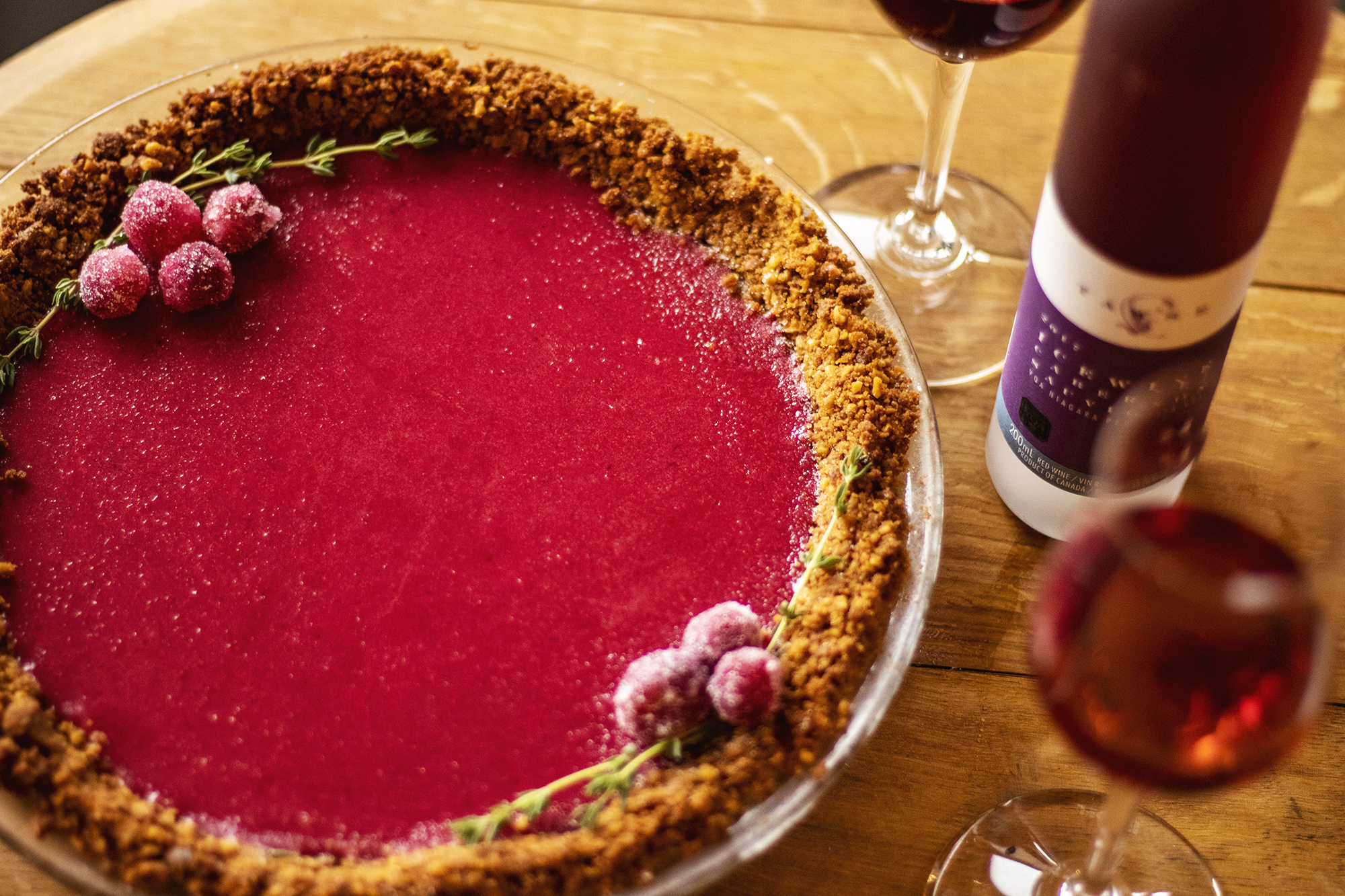 CRUST
– 5oz Gingernaps
– 1 cup Walnuts
– 3 tbsp Brown Sugar
– 4 tbsp Butter, melted
FILLING
– 12oz bag of fresh Cranberries
-1 1/2 cups sugar, divided
– 3 large eggs
– 2 egg yolks
– pinch of salt
– 1/2 cup fresh lemon juice
– 4 tbsp unsalted butter, room temp & cut into pieces
Instructions
Set oven to 350F, lightly spray a 9 inch pie plate with cooking spray.
Put the gingersnaps in a food processor and process until they are fine crumbs (a heaping cup) Add the walnuts, and brown sugar and process again until everything is finely ground. Add the butter and process briefly to combine.
Pat the crust into your pie plate, and up the sides. Bake for 10-12 minutes. Set aside to cool.
Put the cranberries, 1 cup of the sugar, and 1/4 cup water to a simmer in a saucepan. Lower the heat and simmer the cranberries, uncovered, for about 15 minutes until they've popped and the mixture is quite thick. Let cool slightly and then puree until completely smooth.
Whisk the puree, the eggs, yolks, salt, lemon juice and 1/2 cup sugar together in a saucepan and set over medium heat. Cook, stirring constantly, until the mixture thickens and coats the back of a spoon, this will take about 10 minutes or so. Stay by the pan the whole time and stir!
Push the curd through a mesh strainer, using the back of a spoon to get it all through.
Let the curd cool for a few minutes and then drop the room temperature butter in, bit by bit, while you stir to melt it.
Pour the curd into the pie crust and smooth out evenly. Chill the pie until it is firm, about 2 hours or so.
Decorate with sugared cranberries and fresh Thyme sprigs!