A beautiful pairing that is sure to be the hit of any Easter Dinner! Chef Sider from Redstone Restaurant has knocked it out of the park with this Redstone Lamb Saddle & Braised Shank Risotto with Cured Tomato, Black Olive, Parmesan, and Basil.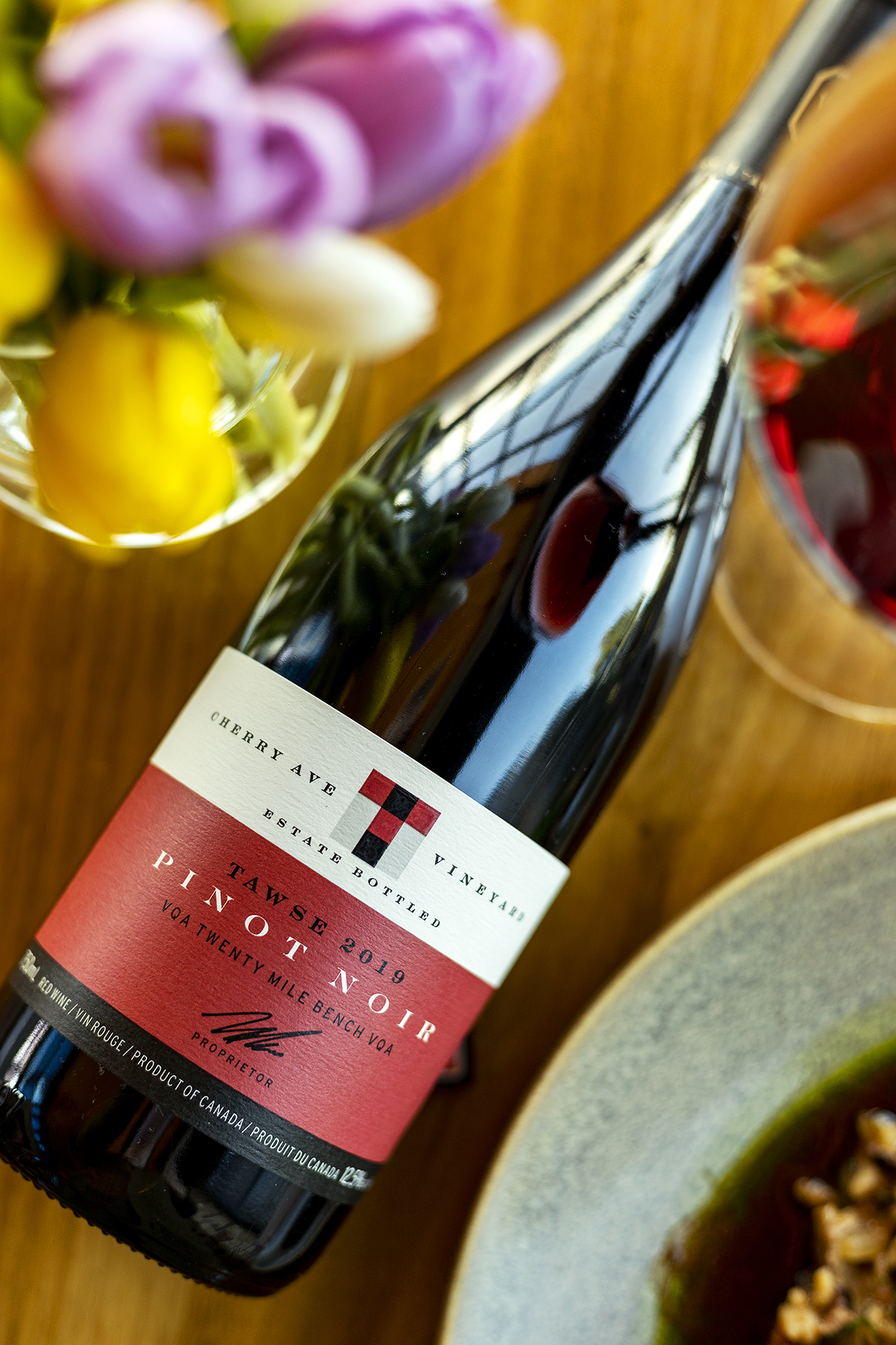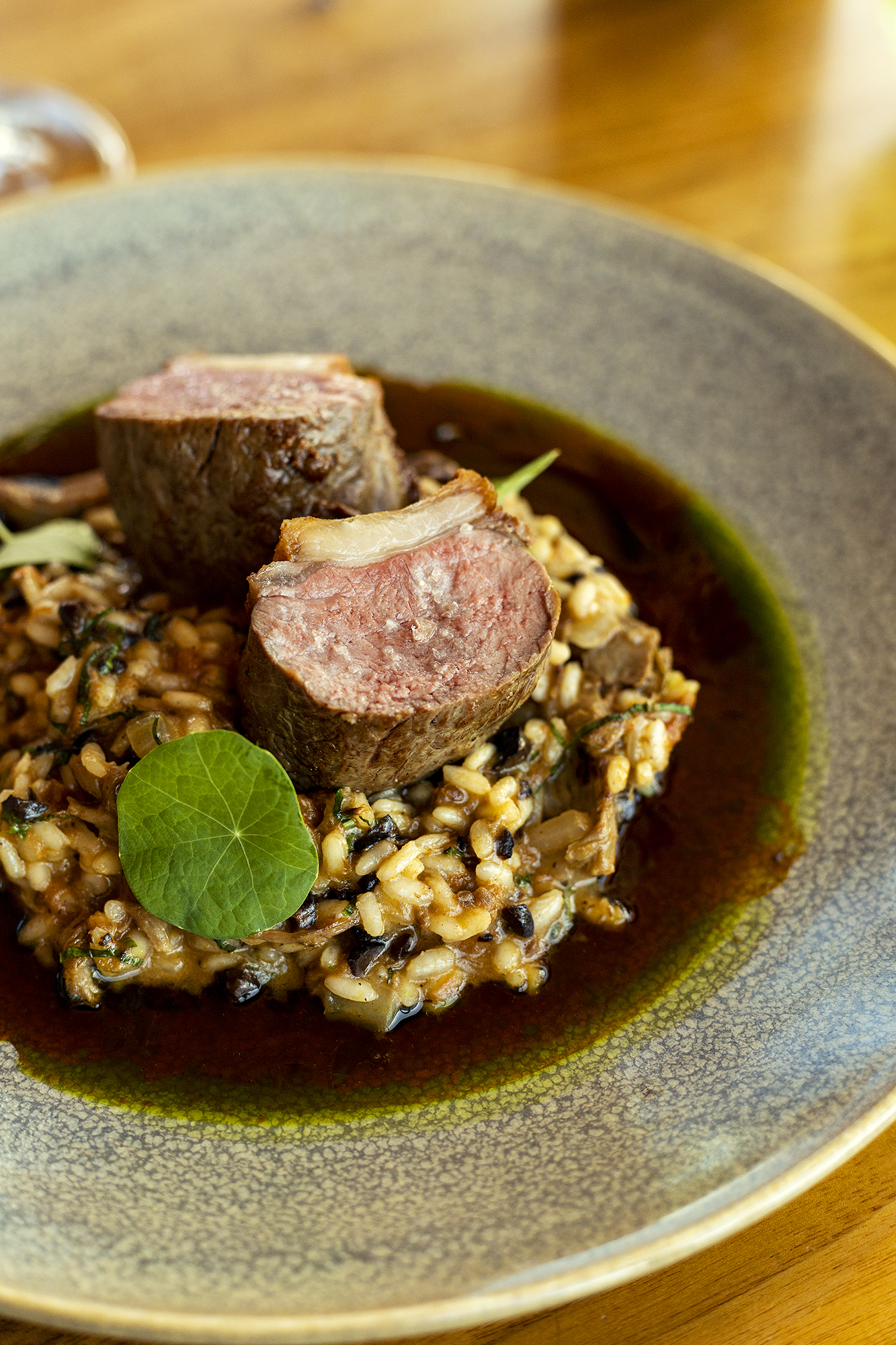 Ingredients:
2 lamb saddles (lamb striploin), boneless
2 lamb shanks
1 onion, chopped
1 carrot, chopped
1 plum tomatoes, chopped
2 clove garlic, crushed
1tsp cumin seed
1tsp coriander seed
2 star anise
25 plum tomatoes, peeled, seeded and chopped
5 shallots, sliced
5 clove garlic, sliced
5 sprigs thyme
2 star anise
1box Arborio rice
1 onion, minced
250mL dry white wine
1/2C sundried black olives, pitted
1/2C parmesan, rasped
1/2C basil, torn
Canola Oil
Butter
Garlic
Thyme
Salt
Pepper
Method:
For the Lamb Shank:
Roasted the onion and garlic over high heat until coloured. Reduce the heat, add the tomato and season with salt. Cook until the tomato is down to a paste. Add the spices and the lamb shank and cover with water. Bring to simmer and cover. Bake at 250F until the lamb is tender, about 3 hours. Allow the lamb to cool in the liquid. Once cool, pick the meat off the bone and reserve.
For the Tomato Marmalade:
Sweat the shallots and garlic until very soft. Add the tomatoes and season with salt to draw out the moisture. Add the star anise and thyme wrapped in cheesecloth and cover the pot with a cartouche. Simmer at a very low heat until the pot is dry and the flavours are concentrated. Allow to cool and reserve.
To Finish:
Season the lamb saddle liberally with salt and pepper. Heat a pan over medium-high heat, add a tablespoon of canola oil and sear the lamb evenly on all sides.
Reduce the heat to medium and add two tablespoons of butter, one clove of crushed garlic and 3-4 sprigs of thyme. Continue to cook the lamb in the butter, rotating the lamb and basting occasionally until cooked to your liking (approx 6-8 minutes for medium-rare). Remove the lamb from the heat and allow to rest.
While the lamb is resting. Sweat the onions in canola oil until soft. Add the rice and toast until lightly coloured. Add the white wine and reduce until dry. Continue adding liquid (water or stock) until the rice is nearly cooked.
Add the lamb shank, olives, and tomato marmalade. Season to taste with salt, butter, parmesan and pepper. Finish with torn basil.
Warm the lamb saddle in butter and carve into 2" thick slices. Place the sliced lamb over the risotto and serve.
Pairing:
We recommend pairing your dish with the 2019 Cherry Avenue Pinot Noir. The bright fruit and rich earthiness of Cherry Avenue specifically counters the acidity in the olive and tomato risotto and the richness of the lamb beautifully.