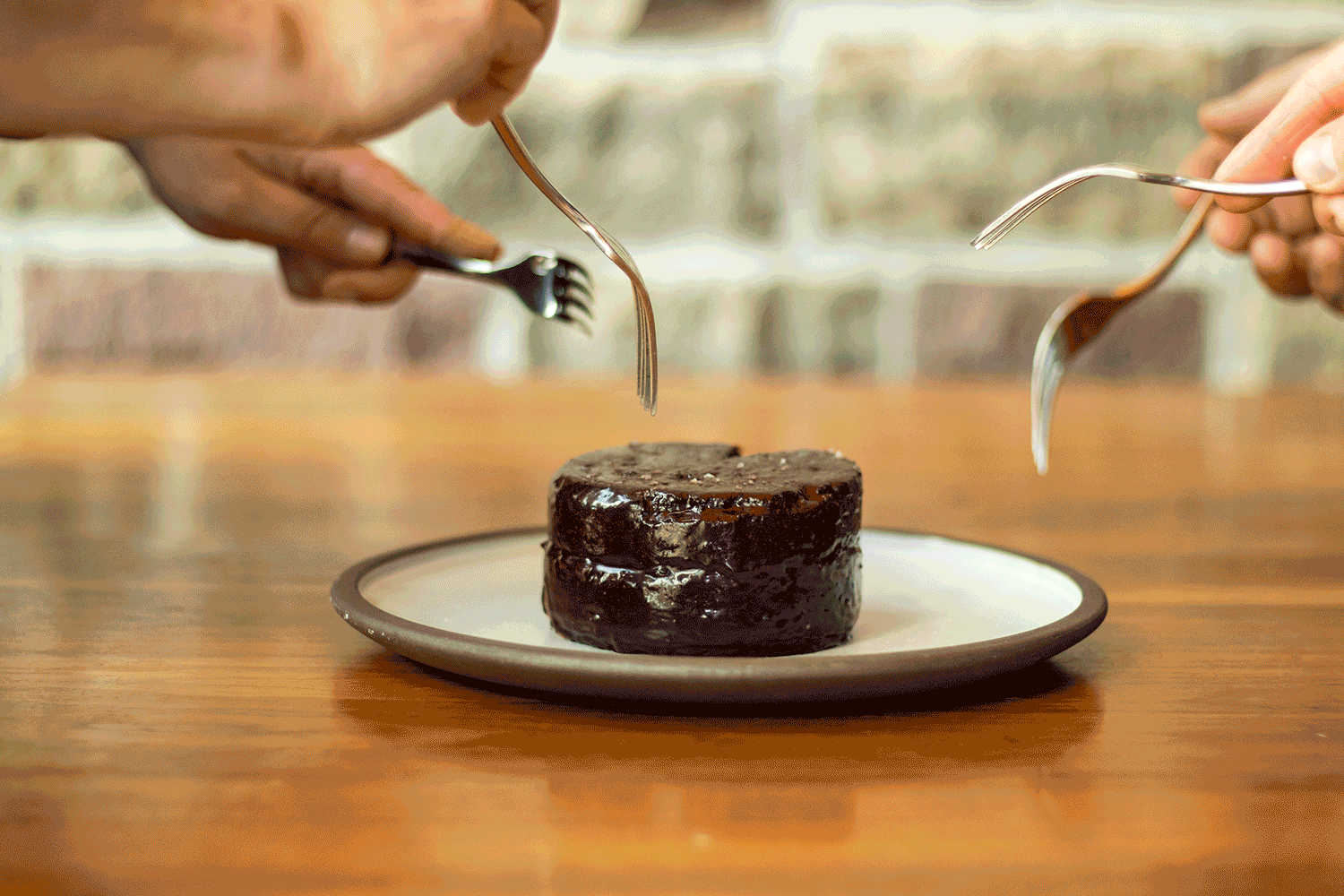 Trust us when we say, these cakes did not last long in the presence of our staff. Moist, gooey, perfectly sweet; everything you could want in a cake and more. The fact that it pairs so wonderfully with our Tawse Meritage is, well, icing on the cake!
Thanks to Chef David Sider at Redstone Winery for whipping up this delicious recipe for us to pair and share.
Triple Dark Chocolate Cake
Ingredients:
Cake:
220g all-purpose flour, plus extra for dusting
300g granulated sugar
45g unsweetened cocoa powder
2g baking powder
3g baking soda
1g salt
2 large eggs
115g vegetable oil
225g whole milk
Filling:
220g heavy cream
45g whole milk
220g semisweet chocolate, chopped
45g unsalted butter, room temperature
Glaze:
12g powdered gelatin, unflavoured
60g cold water (for gelatin)
70g unsweetened cocoa powder
75g room temperature water (for cocoa powder)
200g granulated sugar
140g heavy cream
Method:
For the cake:
Preheat the oven to 350F.  Butter and flour an 8 inch cake pan and set aside.  Combine all wet ingredients, as well as all dry ingredients, and whisk the wet ingredients into the dry ingredients one third at a time.  Pour into the cake pan and bake for 45-55 minutes, or until a cake tester comes out of the center clean.  Let cool for 15 minutes before removing from the pan, and then cool completely.
For the filling:
Combine the milk and cream and bring to a simmer.  Remove from the heat and add the chocolate.  Whisk until combined.  Once all the chocolate has melted whisk in the butter.  Let cool completely.
For the glaze:
Combine the gelatin and cold water and mix until dissolved.  Combine the cocoa powder and water and mix to form a paste.  Combine the sugar and heavy cream and cook over medium heat until it reaches a simmer.  Add the cocoa powder mixture and the gelatin mixture and cook until hot to the touch, approximately 5 minutes.  Note – the glaze must be kept warm until ready to use so it is best made once you are ready to glaze the cake.